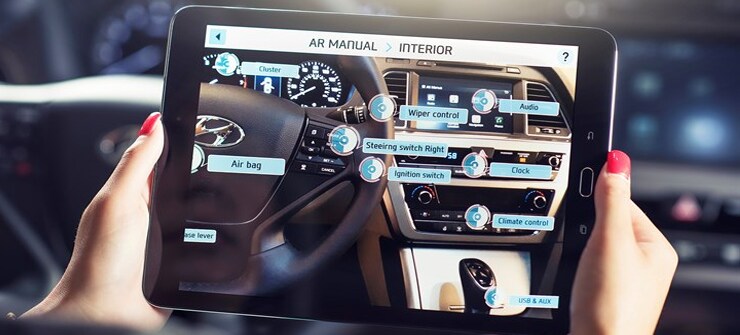 Hyundai is about to set a new precedent in the automotive world by being the first automaker in the world to offer its buyers an augmented reality owner's manual application. To be known as the Hyundai Virtual Guide App, this is a completely new take on the traditional paper owner's manual that has been supplied with every new vehicle since time immemorial.
Simple to Use App
This simple to use app will allow Hyundai owners to access a wealth of information including how-to data covering maintenance, repairs, and the various features of their vehicle. All of this can be accessed via either a smartphone or a tablet, making it fully mobile. When launched, the Hyundai Virtual Guide will be compatible with the 2015 Sonata with the rest of the models to come in the following months. The app covers important information covering over 45 important features of the vehicle and can be downloaded for free in both the Google Play store and Apple App Store.
The decision to develop the Hyundai Virtual Guide comes after long term studies and consumer survey results. This data was then used to determine those features which are considered to be the hardest to use. In the app, you will find there are 82 how-to videos, along with six 3D overlay images that will appear when you use the camera in your phone or tablet to scan over the particular area of their vehicle, such as the engine compartment. There are also more than 50 informational guides contained in the app.
Frank Ferrara, executive vice president of customer satisfaction, Hyundai Motor America, has this to say," The Virtual Guide is aimed at educating our owners on how to use the functions and features of their vehicle. We modernized the idea of an owner's manual to provide the highest-quality user experience for the growing population of tech savvy consumers."
Valuable Information
This very valuable guide can use both two and three dimensional tracking technology to provide the user with highly detailed information covering various areas of your vehicle. Among the areas covered using this technology are:
Air-filter
Bluetooth phone pairing
Brake fluid
Clock
Engine oil
Fuse box
Smart Cruise Control
Smart trunk
Warning indicators
A Bold Idea Becomes Reality
With the development of the Hyundai Virtual Guide, Hyundai has taken the lead in completely reinventing the traditional and overly thick owner's manual that typically spends more time collecting dust in the glove box than being used. However, this is not the first time Hyundai has turned to technology with regard to owner's manuals.
In 2010 the company launched the Equus Owner's Manual App for use with iPad®, iPod Touch, and iPhone for their luxury vehicles. This was followed in 2014 by the launch of the Hyundai Assurance Car Care in-vehicle and mobile app designed to let you access a wide range of car care services and vehicle information. This app brings drivers access to their owner's manual directly via the touchscreen in their vehicle. It allows drivers to access all of this information when and where they needed, in their car at the time the problem occurs.
If you would like to learn more about the Hyundai Virtual Guide app, come on into Hyundai of Cookeville and talk to one of our highly knowledgeable sales team members. We are conveniently located at 931 S Willow Ave, Cookeville, TN 38501 and proudly serve our customers in and around Knoxville and Cookeville, TN. Give us a call to schedule an appointment for a test ride and demonstration of this amazing new app today!